mercredi 26 septembre 2007
"I love lace and buttons"
J'ai enfin fini une robe/tunique (modele P) issue du livre "I Love Lace and buttons".

Elle est en fait dans le même tissu que la doublure des poches et de la ceinture du pantalon.
Voici la photo de l'original :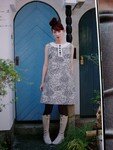 Sauf que comme j'avais pas assez de tissu, c'est devenu une tunique.
Bon, je vous la montre et on en parle après :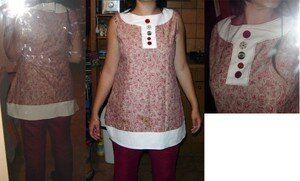 Alors en fait, de loin comme ça, j'en suis vraiment contente. Mais de près, un peu moins.
Déjà, je me suis luttée à poser une fermeture invisible dans le dos, qui n'est pas vraiment invisible, pour me rendre compte ce matin que j'arrivais à l'enfiler sans ouvrir la fermeture...
Ensuite, la parementure blanche est fort bien posée devant, mais derrière ça craint un peu plus, y'a un décalage que j'ai tenté de combler avec l'étiquette... peine perdue...
Puis, j'ai eu des petits soucis de largeur des bandes blanches en bas, doublé d'un coup de téléphone surprise = cet espèce de rentré qu'on voit d'un côté en bas de la robe.
Et puis, en mettant la photo, je me rends compte que mes boutons ne sont pas parfaitement alignés (pas grave ça), mais surtout qu'il y a 2 tâches sur le tissu en bas, et ça c'est la honte, surtout que je la porte cette tunique aujourd'hui.... sous un pull d'accord, mais bon...
Je pense que je vais rester assise derrière l'écran....
Commentaires
Poster un commentaire