mercredi 4 mai 2011
Romantic Ruffles Sailor Dress
This dress is from the Sailor Dress pattern in the book. I modified the pattern so I am afraid it is not too much like the original pattern anymore? I had to modify the original pattern because I made a mistake and I do not have enough fabric!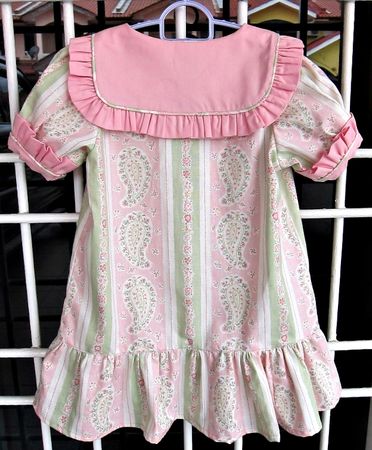 More pictures and information on dress construction in Sertyan's Sewing Corner
mardi 4 janvier 2011
Lovely... Comme une L du livre 106
Bonjour et bonne anneal 2011 a tous et a toutes !! :-))
Pour commencer l'annee en beaute, j'ai enfin pris une bonne resolution: ecrire tous les postes que j'ai en retard ! ;-)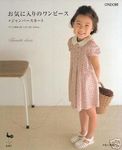 Donc pour commencer d'un bon pied, voici une petite L issue d'un livre que j'aime beaucoup: le numero 106, "Favorit Dress".
J'avais deja fait cette robe avec un tissu choisi par GrandeCherie: un hawaien rose fushia. Je n'etais pas tres tres contente du resultat, car je trouvais que le tissu n'allait pas avec le modele.
C'est donc en secret que j'ai realise cette deuxieme version, afin de pouvoir choisir le tissu que je voulais ! ;-)
Resultat: une petite robe/tunique dans un lainage tres chaud et doux vieux rose et chocolat en ecossais.
Aaahhhh !!!! Perso, je prefere !
Voici donc la petite robe/tunique finie et portee... mais pas repassee ! hum...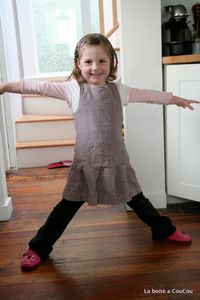 Pour plus de blah blah et de photos, c'est par chez moi:

vendredi 4 juin 2010
Petite robe retro
Voici une petite robe tout droit sortie du livre 106: favorite dress:
Ce petite livre est une mine d'or. des modèles très jolis et pas vraiment vus ailleurs et forcement, des patrons qui tombent nickel. Pour couronner le tout, c'est très bien explique... donc que demander de plus ?
Cette fois, j'ai fait le modèle L: une petite robe taille basse avec de larges plis. j'aime beaucoup son petit cote rétro.
Par contre, c'est ma fille qui a choisi le tissu... du coup, bye bye le cote retro.... bonjour le cote hawaiien ! ;-))
Voici le resultat en photo: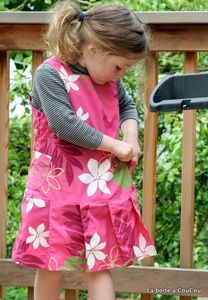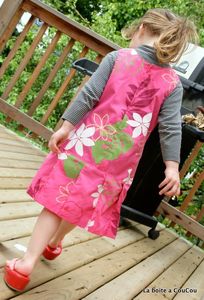 Et pour plus de détails, de photos et de blah blah, c'est chez moi: La Boite à CouCou.

mercredi 17 septembre 2008
Robe automnale
Robe trapèze à pli creux ; facile à faire et très bien conçue.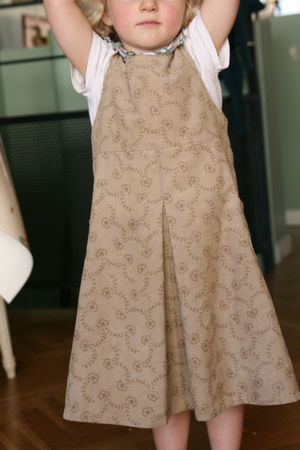 Robe K du livre "Favorite dress" (taille 100)
en velours beige à fleurs marrons
Plus de détails sur Les épingles de Poupette
jeudi 3 avril 2008
L'élégance japonaise des petites filles ??
Si je ne me trompe, j'inaugure ce magnifique livre dont vous pouvez voir des détails ici
J'ai flashé d'emblée sur le modèle de la couverture et me suis lancée dans ce premier modèle :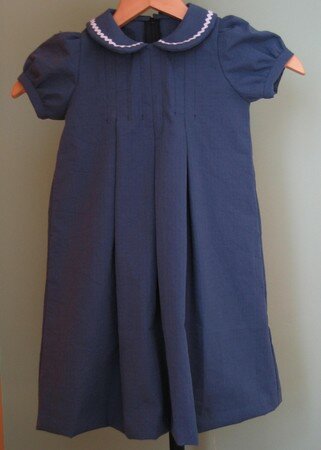 Modèle E du livre "Favorite dress", en coton bleu gris (taille 100)
Le haut de la robe est loin d'être un jeu d'enfant (3 plis creux sur le devant, 4 dans le dos), sans compter qu'avec un tissu uni, c'est encore plus délicat car les surpiqûres sont très voyantes, et j'ai dû m'y reprendre à plusieurs fois pour qu'elles soient "acceptables"! Avec un tissu à motifs ou plus clair, cela devrait être plus facile.
D'autres photos si vous voulez par ici.
En tous cas, j'ai hâte de poursuivre avec d'autres modèles de ce livre plein de petits trésors !