lundi 5 octobre 2009
Super gilet
Commencer il y à quelques semaines, mais le propriétaire
de ce gilet m'a demandé de le terminer au plus vite.
Et voila le résultat, il l'adore...






plus de vues chez moi



dimanche 3 mai 2009
1ère chemise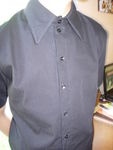 chemise pour un jeune homme qui avait passer
commande cet hiver, ici manches courtes.
Pas difficiles à coudre, mon seul souci,
la boutonnière car la machine est très ancienne.
D'autres vues sur : htttp://wildhibiscus.canalblog.com
samedi 18 avril 2009
sweat capuche, livre 110
un nouveau sweat capuche
molleton jaune moutarde de chez Cobaltine, interieur capuche coton tissé de chez Indigotex
impression transfert "moustique sanguinaire" que monsieur a selectionné sur Google image !
TL d'un patron japonnais, le même que le PRECEDENT,
seule modif, la capuche qui se chevauche devant, sur 1,5 cm !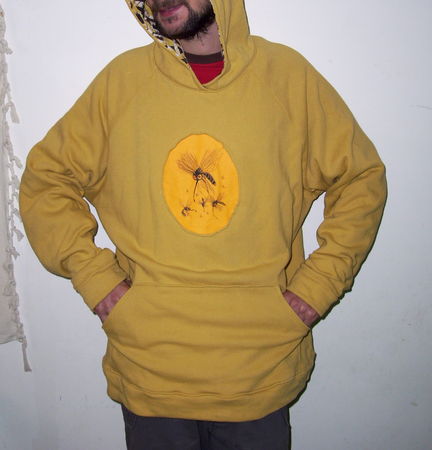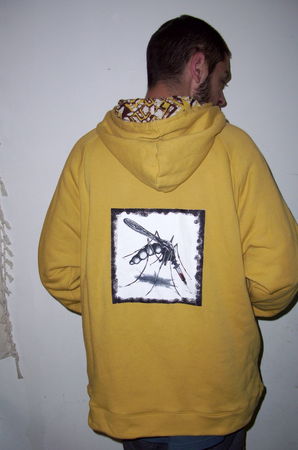 mardi 3 mars 2009
sweat capuche pour mon homme
mon cher et tendre ne porte QUE des sweat capuche.......!!!!
alors, naturellement, j'ai chercher un patron correspondant à ses préférences,
que j'ai finis par trouver sur le livre japonnais n°110 (en taille LL) "Basic of lockstitch sewing machine of men's clothes"
et voici le rendu final:
(bon, pour la lame de scie circulaire, je décline tte responsabilité ! c'est Monsieur qui a choisi !!! comme ça, on l'embête pô...., ça calme !)
évidemment, il a fait sa tête de cochon, et refuse que son image apparaisse sur internet (big-brother quand tu nous rend parano !)
du coup, je vous mets ma chienne pour rendre la photo plus sympa ! !
le pull est en molleton coton, capuche doublée de coton camouflage, transfert realisé a partir d'une photo grace au papier transfert "clairfontaine"
cécile, de fil de bo'T
dimanche 1 février 2009
1er sweat en polaire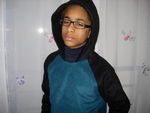 Il attendait ce moment avec impatience, c'est son 1er sweat.
Tissu acheté lors du "Marché aux tissus" à Mons...
Pas besoin de machine à coudre, je n'ai utilisé que la surjeteuse.