dimanche 28 mars 2010
Une veste du Pattern Magic 2
Je l'avais déjà réalisée dans un tissu plus rigide pour outrer ce col pointu derrière qui fait sa particularité, mais là, j'avais besoin d'une petite veste de printemps, facile à vivre et à porter. J'ai donc choisi un jersey souple et fluide pour donner un côté drapé à ce col :
Très confortable, j'en suis ravie. C'est vraiment le modèle le plus simple à faire : des rectangles et des triangles à assembler.
A bientôt

Infinitudes
dimanche 19 juillet 2009
Poche spéciale
Je remercie la JCA'S Team de m'accueillir sur le blog.
Et en intro, je vous présente une de mes créations homme avec le détail de la poche extrait du Pattern Magic II.
à bientôt,
mardi 9 juin 2009
Haut Pattern Magic
Premier essai sur ce modèle.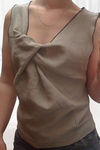 Plus de photos ici : JusBcoud
mercredi 20 mai 2009
veste triangulaire.
patron tiré du livre japonais "pattern magic 2."
sergé de coton, ruban et bouton.
la forme particulière est donée par une base triangulaire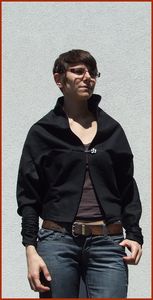 bonome
vendredi 13 février 2009
Ma première tunique du printemps !
J'ai à peine ouvert cet ouvrage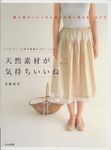 que je me suis lancée dans la réalisation du modèle L.
J'ai réalisé une taille 11, le modèle tombe bien (aucun d'effet montgolfière bien connu).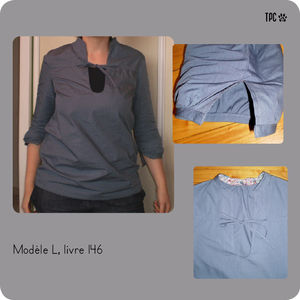 Coton Toto et Liberty Mark
J'ai utilisé du Liberty pour doubler le col et la parementure pour le contraste. J'adore également les manches 3/4, avec une légère ouverture au niveau du bracelet de manches.
Aucune difficulté particulière pour le réaliser, donc je le conseille car la coupe est très sympa!

A bientôt,
Elodie
jeudi 22 janvier 2009
#02/veste japonisante/ Livre146
Veste réversible à partir de la technique du "Pattern Magic - vol.2"
je pourrais vous montrer d'autres photos ou donner plus d'infos
si certain(e)s souhaitent réaliser ce modèle.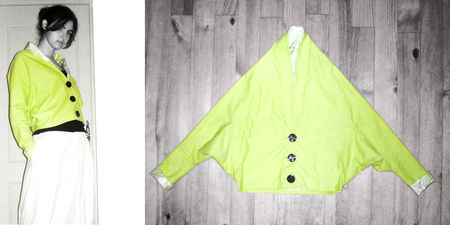 Ciss
http://cissbook.free.fr

lundi 10 novembre 2008
veste
Premier essai de Pattern Magic vol.2.. le plus simple pour commencer !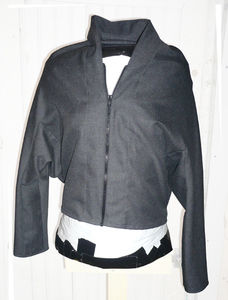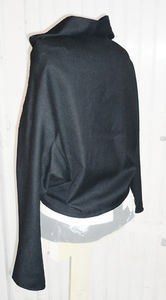 dimanche 9 novembre 2008
On peut tout faire avec un patron japonais
Même un costume d'halloween!!
Au Québec, la tradition du costume est suivie, et les soirées Bonbons en costume touchent autant les petits que les grands.
Et comme il est des modèles très étranges (mais de très beuax aussi) sur les livres "Pattern Magic", je n'ai pas eu la peine de trop réfléchir pour en détourner un.
Le modèle d'origine est celui-ci.
Et voilà le détournement, version gore pour Halloween.
Je n'ai pas réussi à obtenir, le même gonflant-ressort (surement un problème de repassage),
mais l'impression de profondeur y est!!!
C'est écoeurant non??
:O)

Franouchka

mardi 1 avril 2008
paper crane jacket developments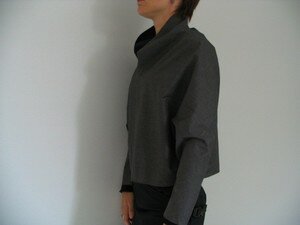 this was my first version using the pattern on page 30 of pattern magic volume 2. using a crisp coated cotton fabric that holds the stiff form and shape to create a wonderful feature wardrobe piece.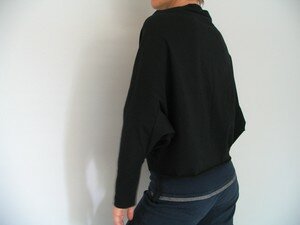 this was my second version of what i now fondly refer to as my 'paper crane jacket' due to it's shape when sewn and lying flat. this is a stretch cotton/lycra fabric that gives supreme comfort and wearability.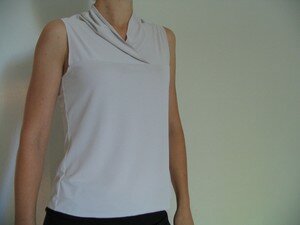 my most recent version takes the neckline detail from the pattern and applies it to a shaped sleeveless top with back flap detail that i have designed. this uses a silken and drapey fabric to create a quietly elegant top.
next? perhaps a long sleeved version of the modified sleeveless top above.
jeudi 17 janvier 2008
paper crane jacket 2
my completed jacket from this book.
and as discussed here, i have chosen to use a hook and eye closure at the front which i think is perfect; subtle and discreet.
this jacket is basically a one piece construction with small triangular insert pieces to the underarm to allow movement. the sleeves have a lovely bias cut to give definition.
raw edges to cuffs and waist.
blogged here.
kirsten @ assemblage.