lundi 25 janvier 2010
Aubergine !!!
Un joli liberty aubergine et un joli patron japonais ça donne ce là...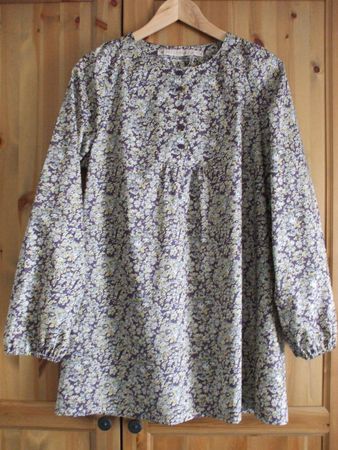 ...voici le patron...
...plus de photos chez MOI !!
vendredi 22 janvier 2010
Inspiration...Chinoise !!!
J'avais envie de coudre mais je devais faire quelque chose de rapide et simple, donc je me suis lancée dans une robe (un classique pour moi) Nani Iro 2009, que j'ai légèrement modifiée.
Pas de fronces au col et emmanchures, une légère ouverture dans le dos au niveau du col et 3 pinces sur le devant. Réalisée dans un tissu d'ameublement (et oui, mais qui reste tout de même assez léger). Et HOP en 1h30 c'était fait … Le plus difficile étant de mettre la robe au petit monstre, et d'essayer de la prendre en photo J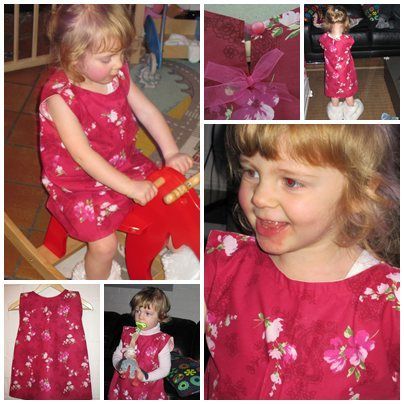 mercredi 20 janvier 2010
Jupe Nani Iro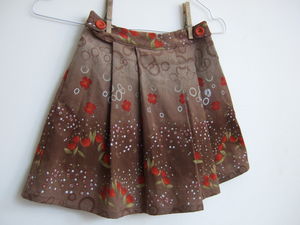 Une petite jupe trouvée sur le site de Nani iro 2009.
Un peu plus d'infos par ici
à bientôt

dimanche 10 janvier 2010
Ma robe de janvier
Suite à l'invitation de Karen qui propose de coudre une robe chaque mois, voici donc ma robe du mois de janvier d'après le patron n°5 du livre Sewing Naturela 3, non référencé je crois. Aucune difficulté à réaliser ce modèle, très agréable à coudre et qui tombe bien. J'ai utilisé du velours milleraies noir de chez Mondial Tissus et du biais Liberty Fairford encre à l'encolure et sur les poches pour faire un rappel.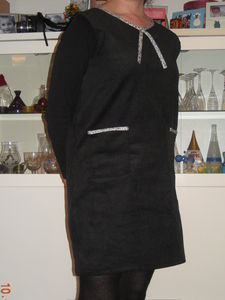 vendredi 8 janvier 2010
Vivement le printemps
Pas de livre, mais un patron individuel (M112, acheté chez Pamadour)...
Une taille S, sans difficulté particulière (il suffit de regarder les illustrations), je n'ai eu aucune retouche à faire: jamais un patron japonais ne m'était aussi bien tombé!!
vendredi 1 janvier 2010
Chapi chapo!
Après le premier essai de chapeau vert, voila un chapeau noir réalisé à partir d'un livre japonais (non encore referencé, semble-t-il?), en laine bouillie ; la fleur est réalisée avec des pétales en cuir (faux, bien sur).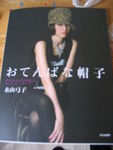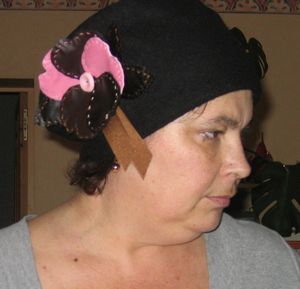 jeudi 31 décembre 2009
Dernière tunique de l'année
Issue d'un patron M envoyé par Emmanuelle dont je n'arrive pas à retrouvé la référence...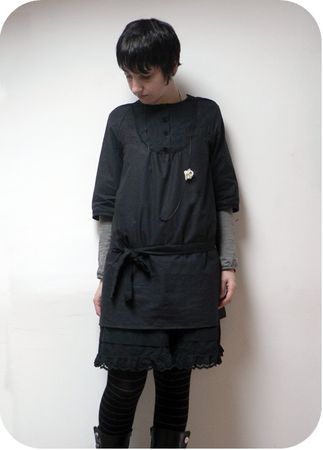 mardi 29 décembre 2009
Salopette pour Hélie
Pour un petit copain, une salopette japonaise réalisée en velours prune /lin à pois.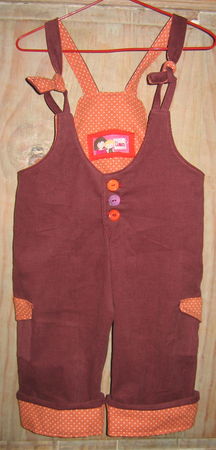 samedi 19 décembre 2009
Plumetis and Poppy
Mon nouveau bouquin en main
, j'ai flashé sur cette tunique, sans emmanchures, en 4 morceaux, difficile à décrire, vous comprendrez mieux en voyant les photos !
Modèle du livre plus haut Cotton Friend, page 21 en plumetis bleu et biais Poppy and Daisy bleu de La Droguerie très bidouillé dans le dos, et fronces rajoutées aux manches.
mercredi 9 décembre 2009
Bavoirs Japonais
Voici des bavoirs que j'ai cousus en utilisant le tuto gratuit de Nani Iro:


Plus de photos et de détails sur mon blog: Tasticottine est sur le fil...