lundi 13 juillet 2009
Mon prééciiiieuxx !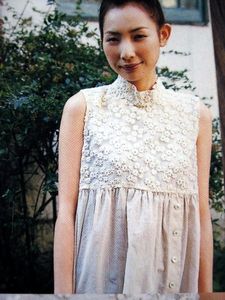 La voilà enfin, la tunique tant désirée, le tissu que je pensais ne jamais trouver. Je suis vraiment contente. Bon les finitions comme d'hab, à chier, mais n'empèche elle à la classe !
Il s'agit donc du modèle V du livre Lace and Buttons. Tissu obtenu via Boulot Chou Chou. Pour le haut, j'ai utilisé tout simplement de la toile à patron sous le voile fleuri.
Et voici des vues plus globales :
Pour la voir portée, c'est par chez moi !

vendredi 22 mai 2009
Un petit chemisier à dentelle et boutons nacrés
A partir du modèle 2 du livre Everyday Handmade Clothes, et en rajoutant le concept du modèle de Lace and Buttons :
Tissu : coupon trouvé à coté de Tissu Reine (voile de coton hyper fin que j'ai du doubler avec du voile blanc et qui a été super galère à coudre
Boutons : récup d'un vieux chemisier.
Plus de photos chez moi. http://sublimerlecorp.canalblog.com/