dimanche 10 avril 2011
Etole cache-coeur
Simplissime et chikissime cette étole !
Je l'ai doublée et ai assemblé les deux parties au point roulotté.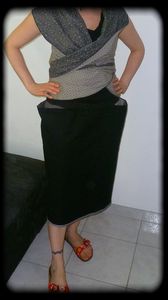 Plus de détails sur mon blog, cliquez sur mon nuage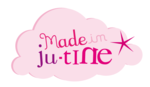 mardi 6 avril 2010
VVVVVoilà le printemps!!
Bonsoir à toutes,
le soleil pointant le bout de son nez, j'ai pu faire des photos de mon ensemble fait pour le 30 mars: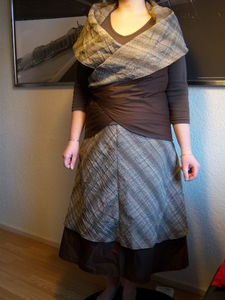 L'étole est donc la V du A to Z, déjà réalisée pour ma copine Coconuts.
Pour en voir et savoir un peu plus, notemment sur la jupe, c'est chez moi!

mardi 2 février 2010
Pas venue depuis longtemps...faut réparer ça !!!
Je lorgnais depuis longtemps sur le patron, alors grâce à la magie des rencontres que l'on peut faire par blogs interposés, j'ai pu me le procurer enfin !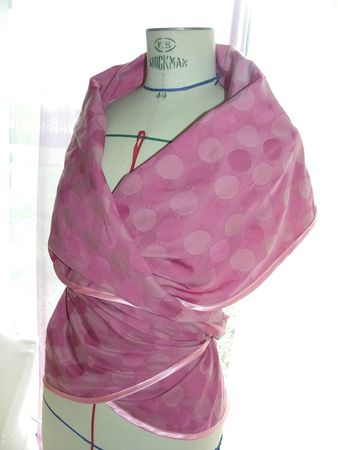 et porté :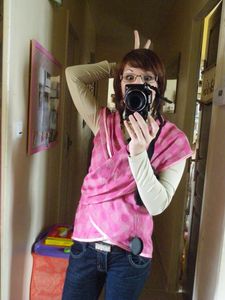 Tissu mondial tissu

Patron V livre 101

Plus par ici
jeudi 12 mars 2009
Première incursion dans le très joli "A to Z" avec l'étole qui porte la lettre V.
Il m'a fallu quasi plus de temps pour trouver le patron sur la planche que pour réaliser cet accessoire en maille gris chiné, simplement surjetté. Le tissu est un peu trop souple pour ce modèle. A retenter dans une autre matière...