mardi 14 juin 2011
du fluide !
J'aime le fluide ! J'aime être a l'aise dans mes mouvements/vêtements !
J'ai donc choisis ce modèle agrandis of course !
Tout bien comme il faut pour le soleil et le vent Breton !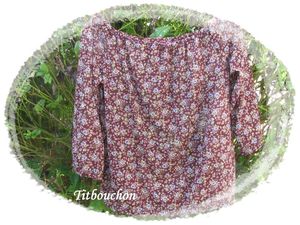 Vous la verrez portée chez moi ;o) (clic clic sur les photos)
mardi 8 mars 2011
burda puis jap
Je reviens aux basiques après un nouvel échec burda. Reflexions, tergivations, pensées et sueurs nocturnes pendant quasiment une semaine. Lecture et relecture et ... rerelecture de mes livres japonais. Je me suis finalement décidée pour le modèle S de A to Z.
Les modifs : je l'ai beaucoup raccourcie - ce n'est plus une robe !! J'ai aussi supprimé la partie au dessus des épaules ( là ce n'est pas très compréhensible si on n'a pas le patron sous les yeux ). Et enfin, j'ai doublé la couture des manches avec un élastique fin des coudes jusqu'aux poignets. Là le résultat est vraiment très sympa. J'adore.
Deux photos - la première avec les bords à la surjeteuse laissés tels quels et finalement la seconde photo sur mon blog avec les bords rentrés et cousus à la main. Cela fait plus fini.
dimanche 22 novembre 2009
Une bleue T...
Robe modèle "T" du livre "101 - A to Z"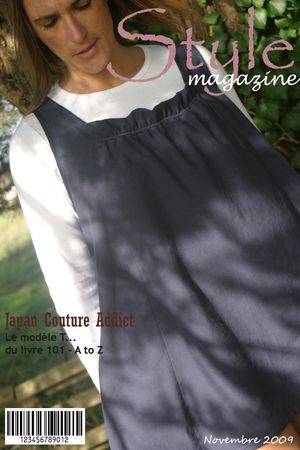 Plus de photo sur mon blog : http://lacanetterose.canalblog.com/