dimanche 13 juillet 2014
Shorts d'automne.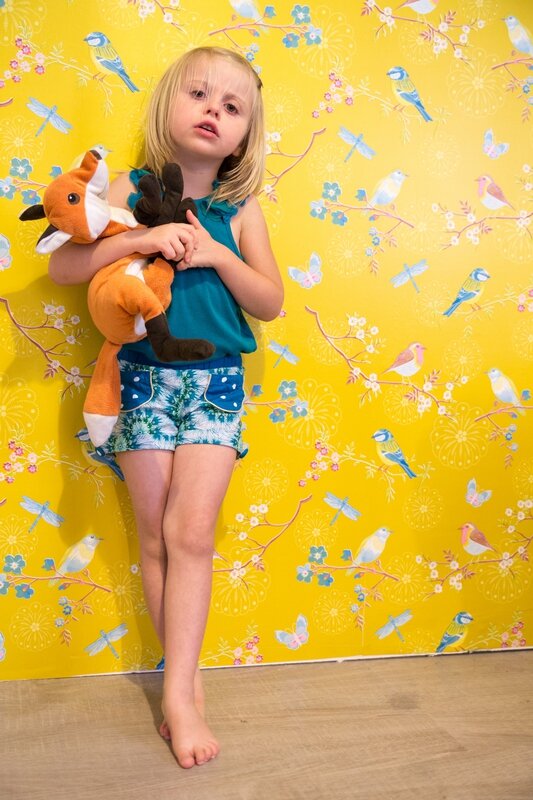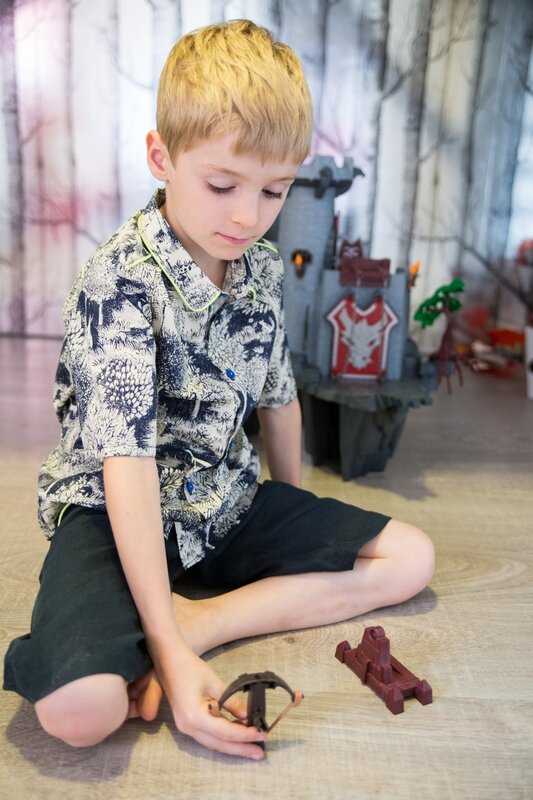 Short à revers du Happy homemade vol.5, bermuda du HHM vol.2 et chemisette du Boys&Girls. Plus de détails et de photos chez moi.
dimanche 10 mars 2013
Une chemisette vichy
Une chemisette taille 90 pour mon bonhomme qui commence le 2 ans du commerce. Un peu large peut-être, qu'en pensez-vous? Mais ça lui va bien et je dis ça en toute objectivité subjectivité !
J'ai trouvé, sur mon marché, des petits boutons ancre pile dans les teintes du tissu qui vient des coupons de saint pierre.
J'ai eu un peu de mal avec les finitions à l'intérieur (jonction parementure col), j'ai du zappé un passage.
A part ça, je suis très contente et mon petit père aussi.
Elle aura des petites soeurs cette chemise, c'est sur!
Pour plus de photos, c'est chez moi
mercredi 7 novembre 2012
Defi mon col plastron...
Pour se défi il fallait faire un col plastron. J'ai voulu testé la chemise de grand père avec son col à plastron. Petit modèle qui me faisait de l'oeil depuis un moment...
***

...Chemise de grand père...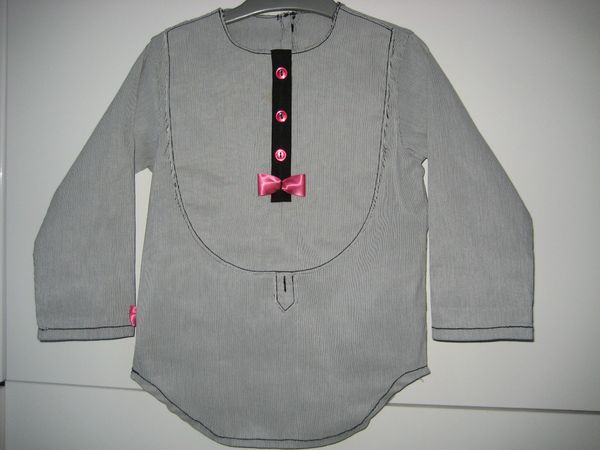 ...Devant...
Chemise de grand père, issu du Boys and Girls n°144, taille 100 (je crois), tissu rayé et boutons MT, satin rose du marché
***
Pour en savoir plus c'est ici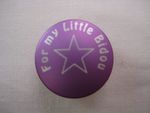 lundi 10 septembre 2012
Dernière cousette d'été
bonsoir,
dernière cousette d'été pour le viking, chemisette (4 ou 5 éme version) du New York Kids Clothes (23 chez les JCA) dans un coton madras de mon stock qui pète.
En 120 pour mon 4 ans, elle ne fera pas l'été prochain…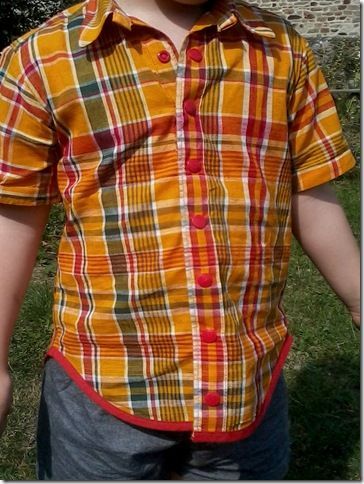 On a l'impression que les pans devant ne sont pas de la même taille , mais si,si… j'ai même re-vérifié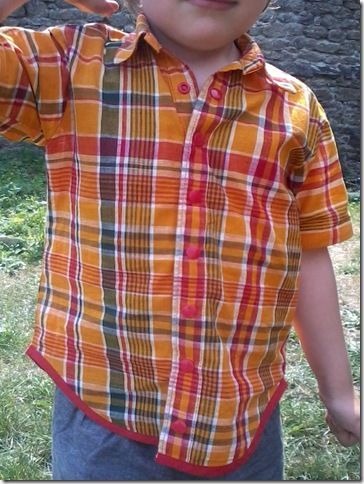 A bientôt
jeudi 12 juillet 2012
Bonjour à toutes!!
Première participation pour moi aux JCA et je suis ravie ;-)
Pour cette première je vous présente une chemisette issue du livre Vêtements faciles pour filles et garçons, soit le n° 329. Taille 110 pour mon Nino de deux ans et demi, sans aucune modif.
A très bientôt!
jeudi 3 mai 2012
Premières coutures pour enfant
Hello les JCA!
Aujourd'hui, voici mes premiers travaux de couture pour enfant avec la chemisette n°01 du livre 112 "Mes petits habits".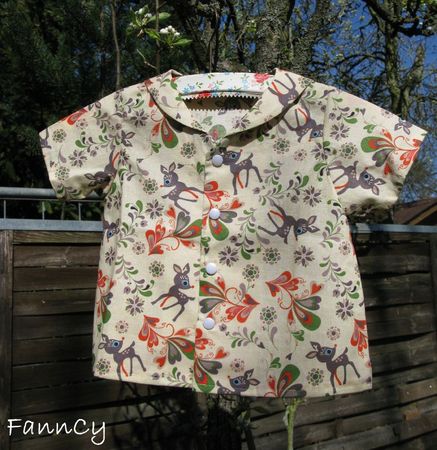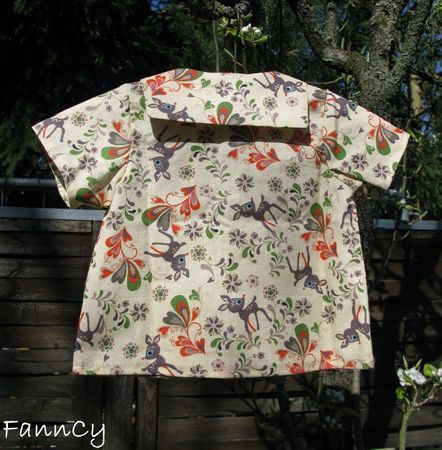 Pour en voir plus, c'est sur mon blog!
A bientôt!
vendredi 1 juillet 2011
la chemise H avec des oiseaux
J'ai terminé pour la seconde fois la chemise H. Je ne peux plus m'arrêter, comment fait-on pour se de-addicter?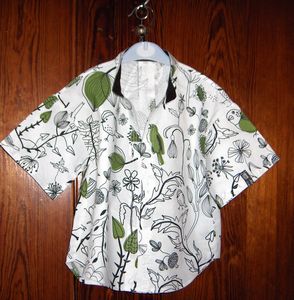 http://mamikcreations.over-blog.com/article-avec-des-restes-77791471.html
dimanche 2 mai 2010
Des chemisiers tout blanc
Issu du livre "les couleurs françaises", le modèle V.
Un peu plus chez :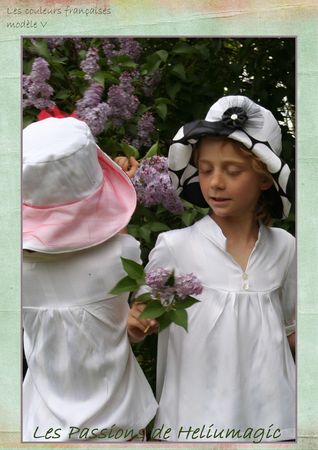 vendredi 5 mars 2010
Un ensemble pour les beaux jours
Voici un petit ensemble pour ma Poupette :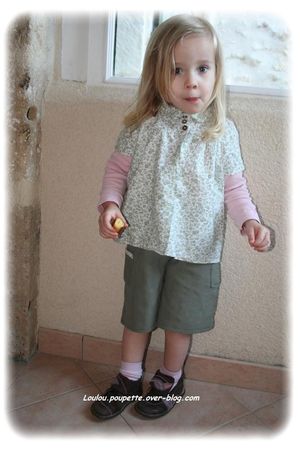 il s'agit du modèle e et du modèle f du livre 111. J'ai du me tromper en recopiant le patron des manches car je les trouve moins "ballonnées" et moins longue que sur la photo du livre autrement, je n'ai pas trouvé de difficultés à la réalisation de cette chemisette, de plus, je trouve que le col a une bonne tenue. La Poupette paraît un peu "serrée" au niveau du col mais je dois signaler qu'elle a un maillot de corps, un sous-pull et un t-shirt en dessous !!! En ce qui concerne le short c'est un réel bonheur de le faire car il est d'une simplicté absolue et je trouve que la coupe est très agréable à regarder. Je pense que mon Loulou va avoir droit à sa version garçon...
Bon, je sais il y a encore beaucoup de vent en ce moment même si le soleil pointe le bout de son nez et les températures ne sont pas encore estivales mais ça fait toujours plaisir de penser au beau temps...
dimanche 28 juin 2009
du Rose... pour les garçons !
... ça change !
une petite chemisette (modèle 9) tirée du livre 112 Boys and Girls clothes qui est vraiment sympa et original.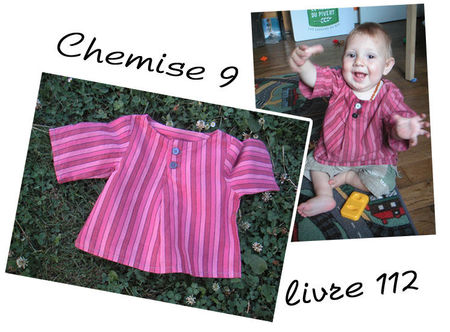 Taille 80 (la plus petite) pour un p'tit loup de 10 mois et 1/2 qui est bien dedans.
Coton rayé de chez organiccotton.biz