vendredi 11 février 2011
Robe/Tunique
Une petite robe toute simple issue du livre 104 "Tunic and One Piece", c'est le modèle n°14. Je n'ai pas fait de modif'. J'ai trouvé le tissu au Marché Saint Pierre il y a 2 semaines.
Ce que je préfère dans ce modèle c'est le volant !
See you soon ! Maé zumzum
vendredi 16 avril 2010
Summer dress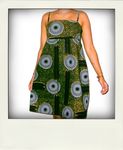 Modèle n°25 du livre 104, Tunic and One Piece, en wax Toto.
La suite par ici !
vendredi 2 avril 2010
Ouiiiiiiiiiiiii !
So in love with my new top !!!!!
Modèle 24 du livre 104 "Tunic and One Piece", taille M avec quelques modifs.
La suite sur mon blog.
A bientôt !
dimanche 28 mars 2010
Petites fleurs...
Une petite tunique en voile de coton pour faire venir le printemps...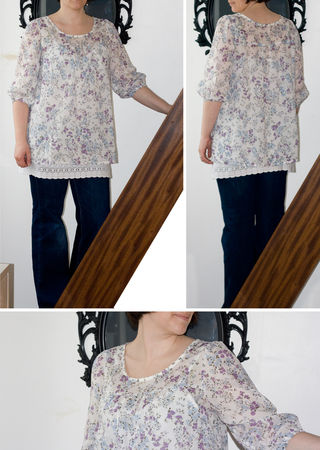 Tissu Indigotex

Mamzelle Mélo
mercredi 27 janvier 2010
Dos nu 5/Livre 104
Hello, je suis de retour avec un dos nu cousu pour mes vacances au soleil:
Plus de détails chez moi !
vendredi 22 janvier 2010
Une petite tunique à carreaux
Bonjour à toutes et tous,
une petite 1 du livre 104, dans un tissu à carreaux et avec quelques détails en tissu à pois noirs.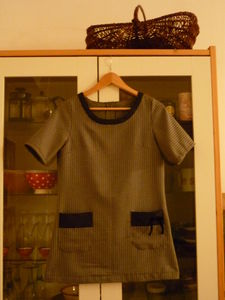 Plus de détails sur Finazana
lundi 11 janvier 2010
Retour aux sources
Après avoir bien exploité le patron 7216 de chez Simplicity , je suis revenue à mes premiers Amours , j'en avais un peu marre des robes "parachutes " mais ce modèle est une pure merveille , rien à y changer , pas de largeur à modifier , parfait !!





Modèle 18 du Livre 104


Comme chacun sait hyper difficile de prendre des photos de vêtements noir, en plus mon appareil est un peu vieux alors pardon pour les photos qui vont suivre .



D'autres Photos portée avec une tunique en doublure et galon de dentelle sur mon blog


jeudi 22 octobre 2009
Top 21 avec tissu psychadélique
Bonjour
j'ai mis du temps à le faire parce que j'avais juste un petit bout de tissu et que je voulais absolument mettre le dessin principal devant.

J'ai aussi remplacé le biais de l'encolure par une paramenture. Mais je le trouve trop grand (LL pour une taille 42)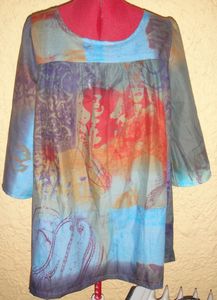 Cliquer sur l'image pour voir plus grand.
lundi 19 octobre 2009
Robe/blouse
A la base c'est une robe simple mais on avec les carreaux on aurait dit mémé, manquait plus que les chaussons et les mi bas !
Un petit elastique de feignasse, car je n'ai même pas pris la peine de faire une ceinture, pour passer un lien, non non un élastique et on l'enfile, on la sort rapidement, ce qu'il me fallait ! :)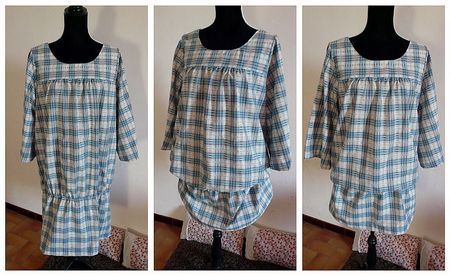 Vu l'éffet bouffant des manches et du buste, y a bien la place pour un col roulé...et hop une touche de bleu pour cette saison ! :)
vendredi 11 septembre 2009
Tunique 14/Livre 104
Encore une ! C'est la 3 ème ! Celle ci est pour "my mum" :
Pas de difficulté, à part le tissu, c'est la première fois que je couds un tissu aussi fin.

A bientôt !